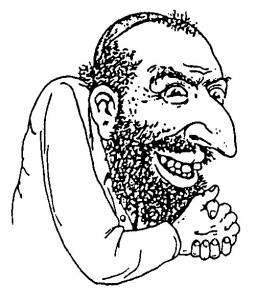 If Christians are going to pray to, and even love, Yahweh, they should picture him in their mind's eye. I've read the Old Testament a few times and have drawn my own conclusions about him.
He had nearly all the most unattractive features of a primitive tyrant. He was violent, sexist, racist, egotistical, power-hungry, capricious, jealous, homophobic, and not particularly intelligent. He allowed and encouraged rape, even of children. He sanctioned slavery, war, murder and the unnecessary killing of animals. He took sides and interfered in proceedings like a meddlesome, mischievous bully. He passed judgment on the most trivial of issues and insisted the Jews worship him. I'm not the first commentator to conclude that Yahweh was a right old bastard. (http://www.youtube.com/watch?v=wG0PDuUdhAc). (http://www.youtube.com/watch?v=pwf6QD-REMY).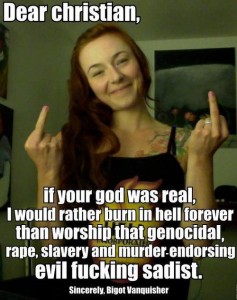 He was similar to Islam's god, Allah, who was also jealous, violent, sexist, and obsessed with snuffing out any competition. Yahweh and Allah were, in fact, hypothetically the same character. Judaism had its priests and prophets who were inspired to write the Old Testament, Islamists had Mohamed who was allegedly inspired to write the Koran, and they were both supposedly referring to the same nasty god.
Yet, Yahweh wasn't all bad. Different authors depicted him differently. There are some places where he was merciful or gracious or forgiving or loving or kind. If he'd consistently behaved this well, belief would be a more benign delusion – but he didn't. God showed his true colors too often.
Most Christians rarely read the Old Testament, or if they do, only pick parts of it, and so gloss over the fact their God is so evil. Yet Yahweh's always been there, quietly lurking in the background, insidiously poisoning Christians' attitude to their fellow men, women, and children. A few fundamentalists still justify their own prejudices by quoting the Old Testament (http://www.catholic.com/library/Homosexuality.asp).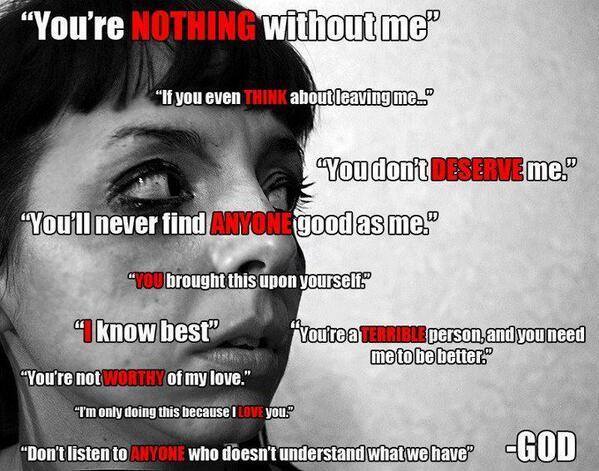 An Emotional God?
"Men create gods after their own image, not only with regard to their form but also with regard to their mode of life."
(Aristotle 384 BC – 322 BC.)
The authors of scripture made out god got emotional. That's problematic, because emotions are a product of perceptions. Consider a hypothetical omniscient "him." He wouldn't hear news, because nothing is hidden from him, nothing can be revealed to him, and he knows the future. We feel anger and frustration when something is wrong, but he can fix anything. We long for things we lack, but he lacks nothing. People pursue perfection, but he's perfect, so needs nothing from anyone. He's never lonely, and there's nothing he needs to do. If he's actually up there, as described, he must just exist in his own wonderful world.
Yet this Yahweh got perturbed when people didn't play by his rules, and was pleased when they did what they were told. How could a perfect, all-powerful Yahweh get happy, angry, sad, aggressive, or jealous? It's impossible for him to experience these emotions unless he's been pretending, playing a cruel joke on humanity. An emotional Yahweh makes no sense. (http://www.youtube.com/watch?v=FiEIc-U13pE).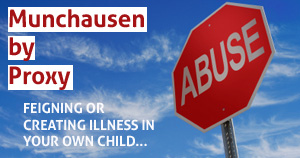 Yahweh has Münchausen syndrome by proxy (MSbP.) He's a caregiver who deliberately exaggerates or fabricates problems (sins; actions that upset him) in those under his care, and thereby gets attention for himself. He can assume the hero role by appearing to care for and 'save' the sinner. ( http://en.wikipedia.org/wiki/Münchausen_syndrome_by_proxy ).
The truth is obvious. Yahweh doesn't exist. Men created God in their own likeness."God" is a fabricated figure who has always been all about power. One of man's main ambitions is to be powerful; to rule over others. "God" has always been nothing more than a sock puppet for priests or other religious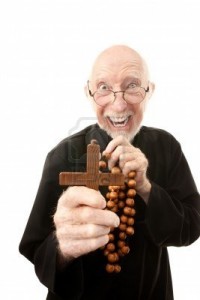 raconteurs. "He" has no mind of his own. 
The "Yahweh" concept was originally used for the benefit of the Jewish clerical caste; to give priests prestige, power and wealth. In later times the Roman government and the Christian priesthood promoted "God's" existence for the same reasons – to control and profit from the public."God" kept commoners bowing to priests and kings, slaves in shackles, women submissive to men, and wayward adolescents obeying their superiors.
Things are much the same today, as Christian leaders in governments, armies, churches, schools, and families are still using God to control others. Consider dying for one's country, Sunday school, sermons from the pulpit, the confessional box, "gay rehabilitation" centers, and the pressure put on people to pay their tithes every Sunday.
http://www.youtube.com/watch?v=VtEsQT5M2IQ (highly recommended viewing)